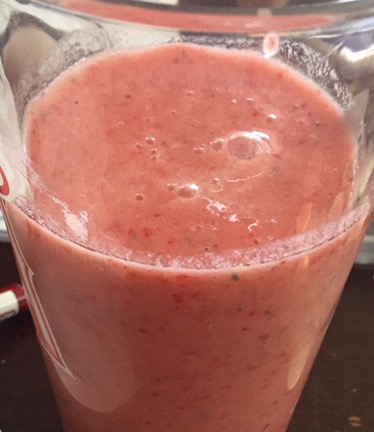 Now, I put the word "detox" in quotes because our bodies already naturally know how to get the crap out of our systems- that's what livers, kidneys, and sweat glands DO. The word detox has become dangerously synonymous with diet culture, so I have become a lot more careful with it's usage. Also: F*CK DIET CULTURE.
After indulging several meals that mainly consisted of deliciously deep-fried everything, my body is begging me for a "detox" which actually just means that I am craving something lighter and easier on my digestive system. I still want actual food with wholesome ingredients that I can pronounce, not a damn diet pill or a laxative-loaded diet meal-replacement shake. GIVE ME REAL FOOD.
Enter my Strawberry & Chia "Detox" Smoothie:  With just 170 calories, high protein from the almond milk and sweetened naturally with juicy strawberries, plus the added power-packed boost of antioxidant-rich chia seeds make this a easy and tasty breakfast option.
Ridiculously Easy Recipe: