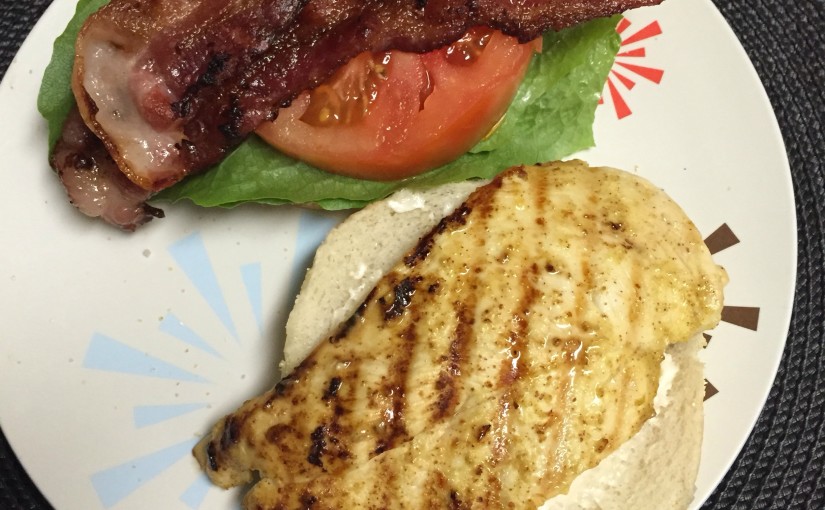 Sometimes an idea for a recipe or a flavor combination will pop in my head and I just HAVE to try it.
Yesterday, the idea of grilled chicken breast with a maple-mustard glaze popped in, quickly followed by the taste for a BLT… and I knew I had to try it. So good!
I am quite sure that there are other versions of this out there, but here's my super-simple recipe. Enjoy!
Organic chicken breast cutlets (thin sliced- mine were about 1/2 inch at the thickest)
Heirloom tomato
Maple bacon (you can sub turkey bacon if you prefer)
Organic Romaine lettuce
Your favorite bread, sandwich roll, or burger buns (*skip the bread if you're eating Paleo or Gluten-Free)
1 1/2 – 2 tablespoons brown or Dijon mustard
1 tablespoon maple syrup
Cooking spray or oil
1. Lightly coat skillet with cooking spray or oil; heat to medium high
2. Meanwhile, mix the mustard & maple syrup in shallow dish; coat chicken breast cutlets
3. Cook the chicken in skillet thoroughly, 3-5 minutes per side (check thickest part for doneness)
4. While the chicken is cooking, crisp bacon in a separate skillet to your desired doneness
5. Rinse the lettuce and slice the tomato; prep your bread/roll/buns with a bit of mayo, if you like
6. Assemble and enjoy!
Approximately 400 calories 😘